By Bo Petersen and Tony Bartelme bopete@postandcourier.com tbartelme@postandcourier.com, Sep 8, 2017
fter its deadly charge through the Caribbean, Hurricane Irma cut into Cuba on its way Saturday to a devastating collision in Florida, its spinning bands carrying 155 mph winds and its likely path forcing millions of people from Florida to South Carolina to seek shelter before it was too late.
Already among the strongest hurricanes on record, Irma was expected to cut through the Straits of Florida and make a northward turn. That would take its eye through the narrow Florida Keys, but its massive wind field was expected to create a swath of destruction equal or greater to 1992's Hurricane Andrew.
This northerly path was bad news for Floridians but brought many in South Carolina a sense of relief. The day before, forecasters had predicted the storm would slice through Florida, cut up the east coast of Florida and plunge deep into Georgia or South Carolina.
Now, the main threat here is coastal flooding from the likely combination of high seasonal tides and Irma's rain.
Still, Irma's oscillations Friday put emergency officials here in a difficult position: Order evacuations or wait until the forecast was clearer. The delay came in part because the storm could still trigger a surge in the Charleston area.
Gov. Henry McMaster wrestled with a decision for two days, twice delaying a verdict before opting late Friday evening to order an evacuation of barrier islands in Colleton, Jasper and Beaufort counties, the most populated being Hilton Head Island. Potential lane reversals would be limited to those areas as well and left to the discretion of local and state law enforcement, he said.
McMaster couldn't say how many people his order would affect.
McMaster said officials will continue monitoring the storm and may opt for another course of action if conditions change and circumstances warrant. But for the decision to stay or go in most areas of the state will be a personal one for residents to make. Still, he urged residents: "Now is the time to plan if you haven't done so."
Emboldened by improving forecasts for the region, many in the Charleston area had begun to lean toward staying rather than face the frustrating prospect of being stuck in traffic gridlock getting out.
But Cathy Haynes with Charleston County Emergency Management urged the public to stay alert and prepare for the worst. The storm's track could still change, she said.
"Please do not let your guard down. We are not out of the woods," Haynes said.
Lixion Avila, a National Hurricane Center specialist, said Irma would bring heavy rain to South Carolina that could trigger flash floods.
And this rain may arrive at a time of unusually high tides Sunday and Monday midday. National Weather Service forecasters in Charleston predict Sunday's tide could reach 8 feet, a height that floods low-lying areas even without rain. And Monday's tide is expected to be even higher.
Tides at 8 feet also can undermine properties as well as exacerbate erosion.
Meantime, South Carolina's roadways were jammed Friday with early evacuees from the Lowcountry and storm refugees from Georgia and Florida. At his afternoon news conference, McMaster asked residents not to hoard gasoline so Florida and Georgia evacuees could fill up.
A coastal flood advisory has been issued for Friday night as waves start rising from Hurricane Irma. Major coastal flooding is expected as the storm closes in this weekend.
The Savannah River and western portions of the state are still in jeopardy of the core of a weakening storm passing directly over them. The National Hurricane Center's 5 p.m. update called for Irma to move north through Florida and weaken in Georgia, though parts of South Carolina could see tropical storm-force winds.
The eye of the storm on Friday afternoon was between Cuba and the Bahamas. The spread of its hurricane-force winds reached as far as the central Bahamas.
The Hurricane Center left open the possibility that the fierce storm — now spinning slightly stronger 155 mph winds — would curve eastward of the Florida peninsula. That would keep it over Atlantic Ocean waters during an approach toward a second landfall in Georgia.
"There is a chance of direct impacts in portions of Georgia, South Carolina and North Carolina, but it is too early to specify the magnitude and location of these impacts," hurricane specialist Jack Beven said.
Even if the forecast track holds, it's still difficult to pin down what would happen in South Carolina, said meteorologist James Carpenter of the National Weather Service in Charleston. If it does remain unchanged, some of the state could would see tropical storm or hurricane force winds at 40 mph or stronger.
Rain would start and winds would begin to rise late Sunday or early Monday with the worst of it later Monday into Tuesday.
The National Weather Service in Charleston called for breezy conditions and a chance of rain Saturday into Sunday. The real mess comes Sunday night, heavy rains and winds gusting at more than 30 mph. Tropical storm conditions are possible Monday, according to the forecast.
"A lot of rain, flooding, and there's still the potential for significant storm surge," Carpenter said.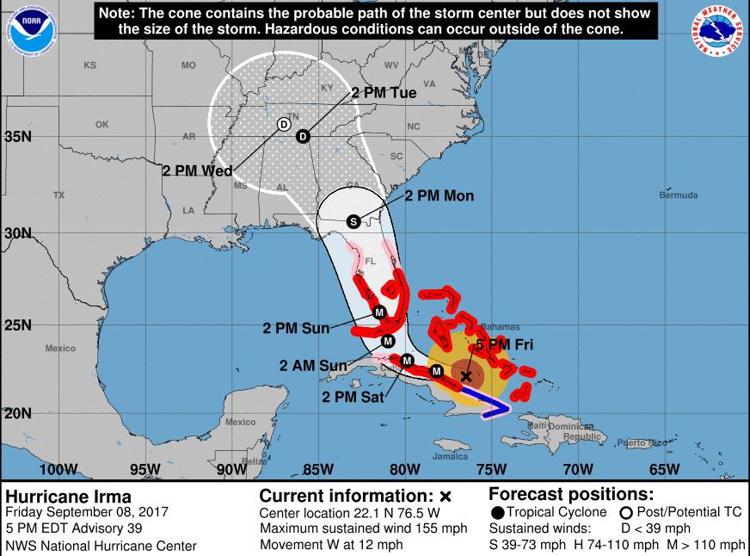 Rain, wind threat
From such a wide storm, the Charleston region also was forecast to experience up to a half-foot of rain and some storm surge from Irma's powerful northern side, meteorologists warned.
With winds expected to disrupt electrical power, South Carolina Electric & Gas Co. warned people to stay away from downed power lines at risk of electrocution. To report a downed power line or outages, call 1-888-333-4465.
Due to the shifting forecast, the company has reduced its estimate of impacted customers from 350,000 to around 70,000. The company has called in 650 line workers from other states and has been stockpiling equipment like poles, wires, insulators and hardware, in case they become necessary.
​​Richland County, where Columbia is located, declared an emergency and closed county offices Monday, a move that will lead to the closing of all state offices in the capital city, including the University of South Carolina. The Midlands are expecting 60 mph winds and seven inches of rain on Monday.
Richland County is opening an emergency operations center and at least one shelter after expecting up to 7 inches of rain on Monday along with 60 mph winds and possible tornadoes. The city of Columbia, still smarting after the historic 2015 flood, also opened an emergency center.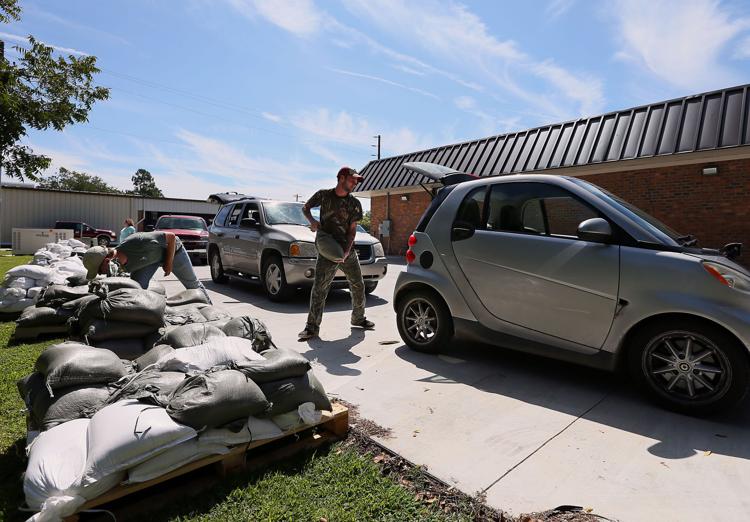 Dorchester County Council announced Friday that a curfew would go into effect in unincorporated areas and emergency services pulled off the road if winds reached 39 mph. Dorchester and Berkeley counties are prepared to open seven shelters each; Charleston County, five. The total would include people-and-pet shelters.
Dorchester County announced late in the day that its shelters will open at noon on Sunday. The locations of those shelters will be announced Saturday.
Storm surge
Perhaps one of the most feared influences from the storm in low-lying Charleston is surge, the dramatic rise in the ocean as strong wind pushes water toward the coast. With a full moon days ago, tides are already high. Coupled with the surge, Charleston could see water rise to 6 feet above ground level, local National Weather Service meteorologist Neil Dixon said on Facebook.
The water was expected to start rising in the Lowcountry on Friday night.
"At every high tide cycle," Dixon said, "that water gets higher and higher."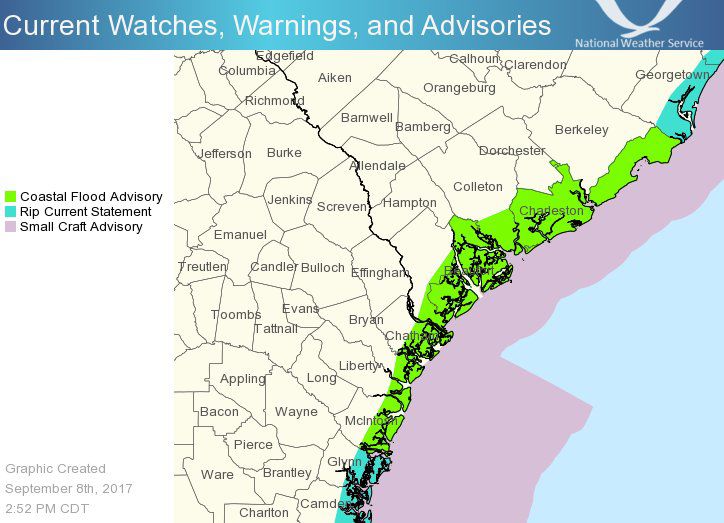 http://www.postandcourier.com/news/hurricane-irma-expected-to-intensify-nearing-florida-but-spare-south/article_82cd822a-943f-11e7-9c4c-b7fe14454e35.html